TToA 2: Petra Eckhard – The Anti-Canon of Architectural Modernism
The second Tabletalk on Architecture, of Petra Eckhard, is titled "The Anti-Canon of Architectural Modernism", and takes place on Tuesday January 10, 18:00 at Kork.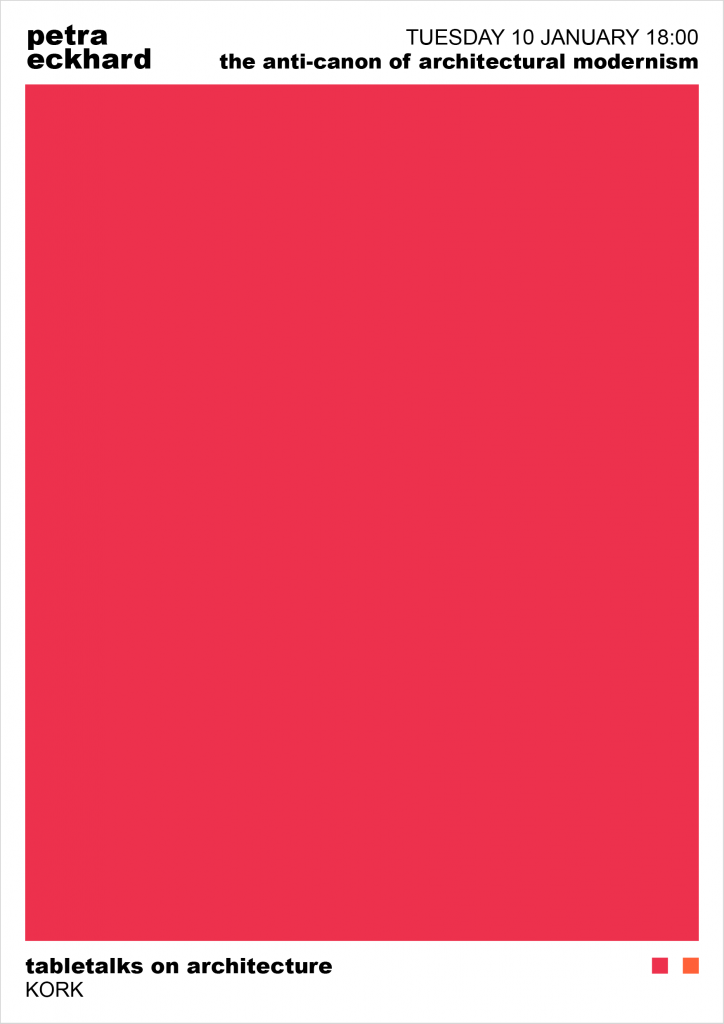 #ed314d
In her talk Petra Eckhard will explore architectural structures located in the Western hemisphere which emerged during the second half of the 20th century as an anti-canon of modernist architecture. As manifestations of personal desires and individual creativity, the works analysed have been realised without the burden of economic, functional, temporal or aesthetic restrictions––aspects which usually accompany architectural practice. In their important function as foils, the anti-canonic works discussed unfold a special relationship to modernist forms, which paradoxically does both counteract and mirror the greatness and hubris associated with the modernist canon.
Petra Eckhard is a literary and cultural studies scholar at the Institute of Architectural Theory, Art History and Cultural Studies at Graz University of Technology. She studied English and American Studies in New York, Bern and Graz, where she also received her doctorate in 2010. Her fields of interdisciplinary research involve practices of architectural writing, postmodernist works of literature and architecture as well as their cultural implications. She is the author of "Chronotopes of the Uncanny" (2011) and co-editor of Graz Architecture Magazine (GAM). Currently, she is working on her second book which explores the anti-canon of modernist architecture.
Event details:
Tuesday, 10.01.2017, 18:00
Kork, Lessingstraße 25, 8010 Graz
Facebook event page [x]
Media pack [x]