Virtual Spaces Master Studio is an experimental master design class by the Institute of Architecture and Media, taught during the summer semester of 2016, to a group of 13 master architecture students. The topic of the studio is based on  "project Anywhere" (Constantinos Miltiadis, CAAD ETHz 2014) and further ongoing research on architecture and virtual space, with the aim of introducing and engaging architects in the design of virtual reality space as a new platform for architectural design. The Virtual Spaces master studio module also includes the electives "Interdisciplinary Media: Space to Sound" and "Architecture & Film. The module was taught by Constantinos Miltiadis and Prof. Urs Hirschberg.
Virtual Spaces Master Studio 2016 – trailer (long)
from
Architecture & Media / TU Graz
on
Vimeo
./center>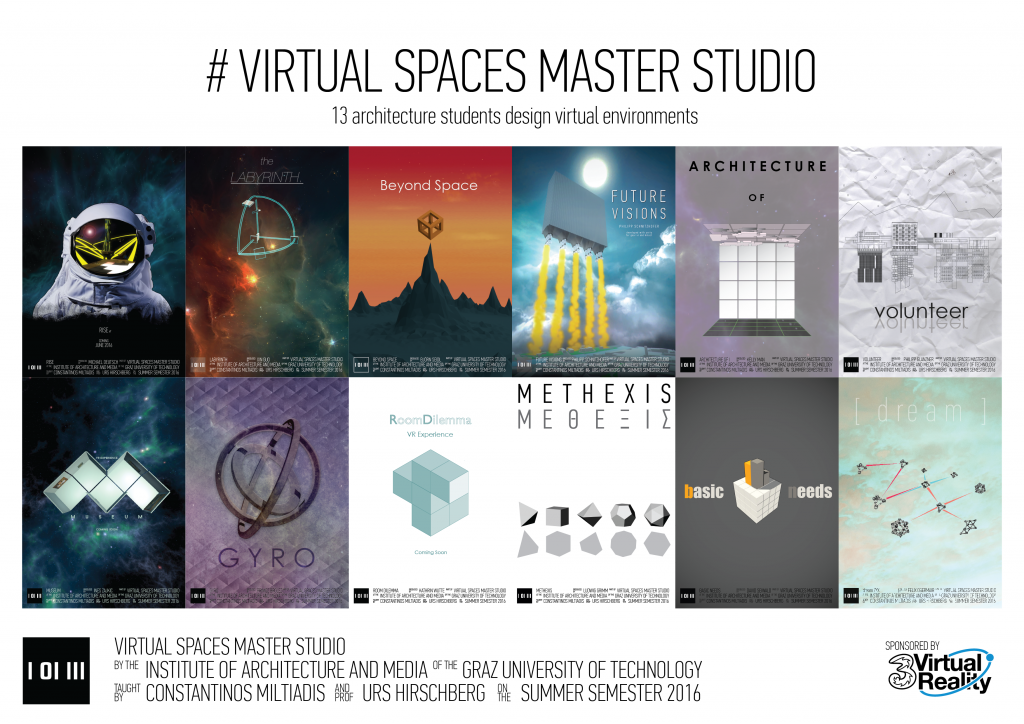 The recent popularisation of head-mounted displays (HMDs), has found VR technology adopted in the architectural discipline for purposes of visualisation, design evaluation and as a marketing medium. However, we hold that, Virtual Reality can be of a much greater benefit for architecture having an immense potential to offer. Though VR has been largely appeared in the last few years, it has a history of more than 2 decades in scientific -cognitive and psychological- experiments, due to its ability to consistently simulate controlled environments, and  credibility to yield qualitative results, as the observed behaviour is close to the one of a similar real-word situation. On the other hand, commercially available and affordable HMDs and current computing power reached the point today where they can deliver unobstructed VR experiences, that can be developed and deployed relatively easily, using game design software. Given the credibility of VR as well as the experience quality offered by contemporary accessible hardware, the intention of the studio is to utilise Virtual Reality as a spatial medium, in which to articulate and develop concepts of interactive, spatio-temporal environments that can only be experienced in this digital from of reality.
Pursuing novel notions of space that can be developed into original spatial experiences, not possible in the material sphere of architecture, the studio cultivated intensively both technical and theoretical foundations. Working essentially in a "video game" medium, the design approach of the studio is a fusion of disciplines, techniques and skills that require the parallel development of both technical and conceptual tools such as concept design and narrative development, storyboarding, interaction design, UI design, 3d modelling, sound design, video editing, scripting, app development etc. Furthermore, the development process introduced theoretical aspects of culture and space, analysing and drawing inspiration from diverse sources: video games, films, novels, architecture theory and critical theory. Besides VR, the students were asked to experiment with alternative creative media through which to convey spatial concepts such as text, sound, video and 2d graphics.
Following "project Anywhere" the VR setup is wireless and full-body immersive, based on a combination of hardware, consisting of GearVR headsets with Samsung Galaxy S6 phones [courtesy of Drei Austria], deployed in a space tracked by Kinect V2 sensors that can follow 25 points of a user's skeleton, synchronised with the android app through a web cloud in real-time.
The following13 projects developed from individual students, display a distinct focus on spatial perception and cognition, and support the studio's initial claim that VR is a medium primarily concerning space, which the architectural discipline can potentially exploit to a great extend for creating virtual spatial experiences, not possible to experience in any other form or medium.
Final Review
June 30th, with invited jury : Jan Markus Ludwig  [wideshot entertainment], Lewis Scott [VizConnected] and Florian Fend [IAM].
Guest Lectures
Michael Hansmeyer [Academy of Fine Arts, Vienna] – "Tools of Imagination" (IAM guest for the Graz Architecture Lectures 2016) [x]
Prof. Werner Jauk [Musicology Institute, KFU-Graz] – "Sound to (auditory) space" [x]
IOhannes zmölnig [Institute of Electronic Music, Kunst Uni Graz] – Introduction to granular synthesis with Pure Data
Sponsors
The studio was sponsored with GearVR headsets and mobile phones by Drei Austria [x].
Exhibitions
TU Graz VR Night, public exhibition, 28.06.2016, with the Institutes CGV, ICG, IICM of TU Graz in cooperation with Fraunhofer Austria [x]
Graz Open Architecture Day, public exhibition, 01.07.2016 [x]
Night of the Museums 01.10.2016 – MUWA, Graz [upcoming]
Studio Excursion
2 day excursion to Linz, including a tour of Ars Electronica and Deep Space 8K by AEC manager Andreas Bauer, Hohen Rausch, Lentos Museum, Schlossmueum, Tabak Fabrik and more cultural landmarks of the city.
Students
Edna Basanovic, Björn Gerd Seidl, David Seiwald, Felix Obermair, Ines Zajkic, Kathrin Julia Wutte, Kelly Man, Ludwig Grimm, Michael Deutsch, Philipp Glanzner, Philipp Schnitzhofer, Primoz Brglez, Xin Guo
Assistants
Ludwig Grimm
Julian Jauk
Martin Schrotz
Teaching team
Constantinos Miltiadis
Prof. Urs Hirschberg
 The studio as well as the electives are taught in English. All projects were made with Unity3D for Android/GearVR. All module output is digital.
Course website: https://iam.tugraz.at/studio16s/
All project videos: https://vimeo.com/channels/vsms2016
Virtual Spaces Master Studio
Summer Semester 2016
Institute of Architecture and Media, TU Graz