TToA 4: Christoph Walter Pirker – Visual ontologies of the indefinite
The fourth Tabletalk on Architecture, of Christoph Walter Pirker, is titled "Visual ontologies of the indefinite", and takes place on Tuesday June 13, 18:00 at Kork.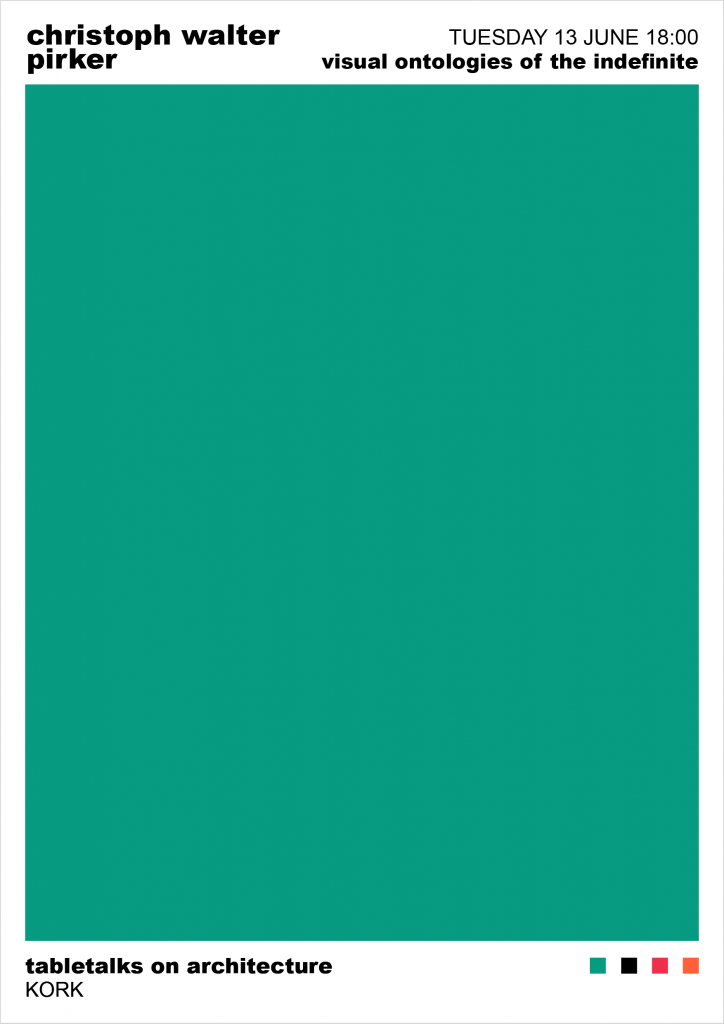 #0e9a81
In the epoch of the Anthropocene, human and non-human agencies are entangled in an extensive fabric, which determines the condition of our world. Such fabric is not balanced in a static equilibrium, but conceived as a flowing and intensive coexistence of currents and conditions, which define the expressions of our environment. The Anthropocene not only gains its geological importance by having inscribed the human's impact in the geological strata of the planet, but similarly by formulating the conception of geological strata as artificial and virtual layers containing a productive, yet unknown potential.
The dynamic of the anthropocenic fabric brings about a new approach to ontogenesis, which no longer occurs by means of substantialist or hylomorphic principles, but through the process of becoming in the intra-action between the natural and the cultural, the conscious and the unconscious, the visible and the invisible. Matter is conceived as a living entity, which intra-acts with the human in complex networks, thereby abolishing traditional hierarchies and dichotomies imposed by the hegemonic system. To investigate such complexity by focusing on the construction of space is the aim of this research, while concurrently rendering visible the overall construction of the anthropocenic fabric.
Paul Virilio dates the origin of a global overformation with the development of the war landscape. It shows the anthropocenic fabric in its global dimensions, constructing an artificial climate and an ecology wherein the real and the virtual move and continuously flow together. Thereby, the construction of the bunker is seen as the mirror image of such war landscape, no longer being object or artefact, but an integral part or knot within the artificial fabric. Its geological investigation allows to consider the rhythm of the Anthropocene in its totality and to establish its rhythmic material as a tool for future inquiry and research.
In referring to the notion of duration, "Visual ontologies of the indefinite" outlines an intra-acting method, which stands in a geological present and understands the geological relict as an atmospheric particle of our immediate environment. Developing practices of embodiment and intuition, the field of warfare is thus not conceived as a mere historic seclusion, but as vibrating object of investigation for our planetary entanglement, encompassing politics, ideology, space, media, visuality, and art to a cohesive body of action.
Christoph Walter Pirker (1989) is Assistant professor at the Institute for Architecture and Landscape at the Graz University of Technology. Furthermore, he is trained as an architect, musician, and visual artist. His transdisciplinary interest is based on studies at the University of Music and Performing Arts, Graz, the TU Graz and the Royal Danish Academy of Fine Arts in Copenhagen, Denmark. Highly engaged in practices of performative research, he is currently working on his PhD project (supervised by Milica Tomić) entitled "Visual ontologies of the indefinite—Investigating spatial relationships of the human, the non-human, and the unknown". The doctoral thesis is a continuation of the 2015 master thesis, which was awarded the Graz Architecture Diploma Award in October 2016. His work is at studiobirkenblau.com
Event details:
Tuesday, 13.06.2017, 18:00
Kork, Lessingstraße 25, 8010 Graz
Facebook event page [x]